All Souls will join our partnered gospel churches in our Community Freedom Celebration on Sunday, May 26th (MEMORIAL DAY SUNDAY).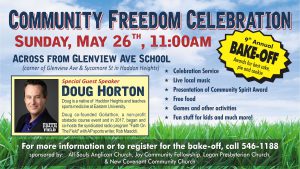 JOIN US at Corner of Glenview Avenue and Sycamore Street in HADDON HEIGHTS NJ
Our joint worship will REPLACE our 4:00 pm Evensong
During our worship, we will honor local coaches who are making a difference with the Community Spirit Award.
Worship will be followed by free food, the 9thannual bake-off competition, and activities for the children.
The GUEST SPEAKER is Doug Horton of FAITH IN THE FIELD.