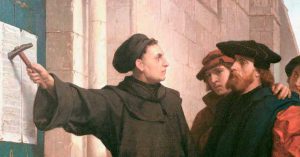 All Souls Anglican adjourns its normal 4:00 pm on October 28th to join our fellow reformed churches at 6:00 pm to remember God's gracious providence displayed during the Protestant Reformation of the 15th and 16th Centuries at the 501st anniversary of the Reformation. The sermon will be given by Rev. William Shishko, Regional Home Missionary of the Presbytery of Connecticut and Southern New York, Orthodox Presbyterian Church.
A time of fellowship will follow immediately after the service.
Rev. Bill Shishko was called to be the pastor of The Orthodox Presbyterian Church, Franklin Square on Long Island, NY in February 1981 and completed more than 35 years of faithful service upon his retirement in June 2016. During his time in Long Island, the Lord blessed the congregation with significant numerical growth and enabled the church to oversee the planting of four mission churches. Bill has served faithfully on various presbytery committees, has served for 15 years as a visiting instructor and adjunct faculty member at Greenville Presbyterian Theological Seminary in Taylors, SC, and has written numerous articles for various reformed publications. His labors in ministry have enabled him to travel to many foreign mission fields and to speak at various conferences in the US and Canada. He continues to be active in serving the Church and his Presbytery as Regional Home Missionary. He currently enjoys doing a weekly radio program, A Visit to the Pastor's Study, where he and his guests bring reformed, pastoral ministry to the people of New York City and beyond.