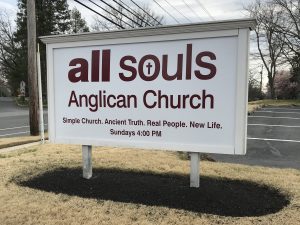 All Souls has a new seasonal sign. Our hosts Covenant Presbyterian have graciously given permission to include it in their rotation of signs. It is much larger than our permanent sign and can be seen at a distance by the thousands of cars that pass on the southbound side of the King's Highway.
Give THANKS for our hosts in their support of our church plant.
We continue to HOPE that God will bring people to replace the family who is leaving for Georgia. He is a mountain-mover (Mark 11.23), and we believe he can move people into this church if that is his will.
PRAY that he would stretch out his mighty arm to gather people to All Souls, including non-Christian seekers.