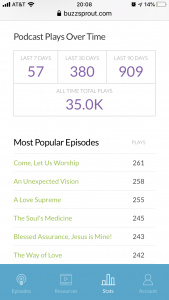 All Souls Sermon Podcast has reached 35,000 plays since our plant's first service in February 2014. The podcast is listen to all over the world. The most played sermon is Come, Let Us Worship with 261 plays. It was the first sermon in an Advent sermon series on the Psalms, Psalm 95 on November 27, 2016.
Every Lord's Day evening the sermon recording for the Sunday is uploaded to the All Souls sermon podcast server with a link to a dedicated page on our website.
Dedicated to serial expository preaching of the Scripture, many listeners tune-in to listen to an entire sermon series given throughout our six year history.